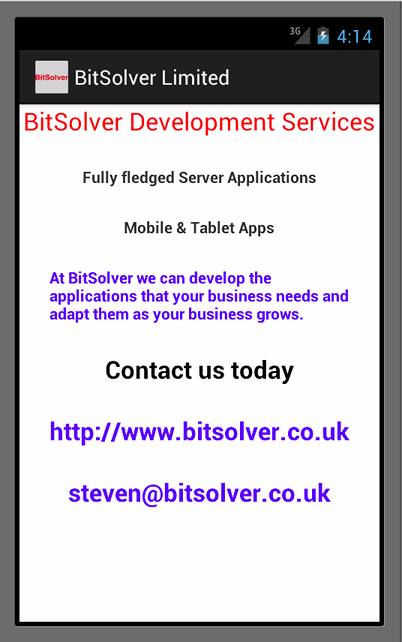 At BitSolver Limited we pride ourselves in producing professional and cost effective bespoke solutions for your business. We know budgets are tight so we will help you find the cost effective solution to your requirements. We never comprimse on quality and security.
Fully fledge bespoke applications:

We can design and develop a fully fledged bespoke application to your specification. This could be:
A server based application,.
A web based client application.
An app designed for use on your mobile phone or tablet device.
We can also create an app that can be used on a combination of the devices described above.
Intergrating existing systems:

We can create solutions to integrate several of your existing systems together. Some examples of this are:
Integrate your website with an existing purchase order or booking system.
Automatically create reports or documents from an existing database (sales reports, orders, invoices etc).
Professional bespoke services:

To ensure we fulfil your requirements we will discuss them with you in detail and produce a full specification and proposal before we begin to develop your product. This step is one which many companies often neglect causing lengthy product revisions and a delay in producing the final item. We pride ourselves on our thorough early planning in order to speed up the overall delivery of a product that meets your requirements.
Where possible we use or adapt open source packages and libraries which minimises your costs and maximises product security and reliability.
To make things even easier we can host and maintain your application allowing you to concentrate on the day to day running of your business.
Data Security and Protection:

At BitSolver Limited we fully understand the importance of your data and the security issues of the modern world. When developing solutions we fully take into account data security and protection. We will include features that can backup your data where necessary and add the necessary security to prevent data being accessed by unauthorised people.