Avalon WebDiary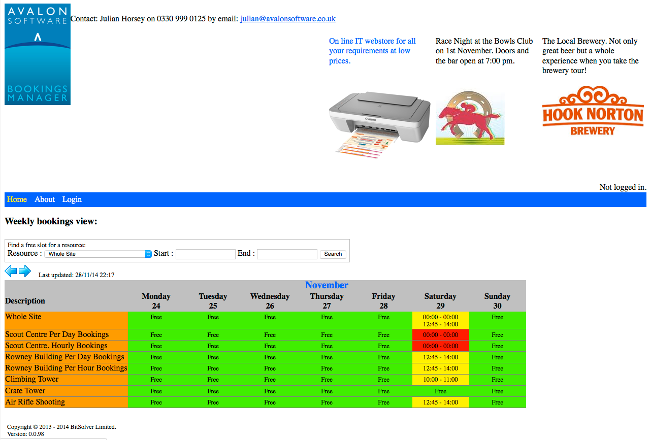 BitSolver Limited developed the Avalon WebDiary with Redstone Computers (UK) Ltd.
The Avalon WebDiary enables customers of Avalon Bookings Software to upload their diary to the Web, without the need to replace their existing booking software. A utility is provided the allow manual and scheduled uploads from the Avalon database to to Avalon WebDiary.
The following features are currently available with the WebDiary:
Ability for public and staff to search for free resources.
Staff can view who has what resources booked.
Customer balances can be checked.
Display graphs and charts of resource usage and revenue income.
Ability to add additional notes to bookings.
Customization of booking table colours and display of resource order.
Note: Availability of features will depend on customer configuration and user access level. The above feature list is based on version 0.0.98.
The Avalon WebDiary was launched in December 2014, you can read the full press release here: Avalon WebDiary
Getting Avalon WebDiary

For more information on getting the Avalon WebDiary with your Avalon Booking Software please contact:
Redstone Computers (UK) Limited
Email: [email protected]